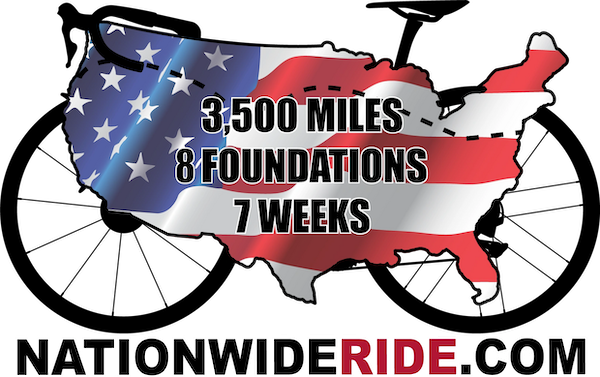 Coast-to-Coast Cycling Event Benefiting 8 Foundations – Including Fire Family Foundation
3,500 Miles, 8 Foundations, 7 weeks
Los Angeles, June 17, 2021 — The Nationwide Ride is a two-person charity cycling event that will kick off on Good Morning America on July 5, 2021. The coast-to-coast ride will span over 3,500 miles and directly benefit eight worthy nonprofit foundations. Along the route from New York City to Pacific City, Oregon, our two riders will be joined by celebrities, athletes, sponsors and special guests as they pedal 85 miles a day for 45 days.
The Nationwide Ride consists of seven cycling stages. Each 500-mile stage will be supported by a generous sponsor and benefit a nonprofit organization. With the support of our sponsors and volunteers, we are able to ensure 100% of every dollar donated via text-to-give or online donations will go directly to the benefiting charities. The goal is to generate $500,000 for our partner nonprofit foundations.
Benefiting charities include: Fire Family Foundation, Boys & Girls Club of Northeast Ohio, First Responders Foundation, Black & Gold NW (USO, Special Operations Warriors Foundation and The Green Beret Foundation), The Sam Day Foundation (Pediatric Cancer Research), Feeding America, The Harrington Family Foundation and The Maurice Lucas Foundation.
Our riders John Bladholm and Chris Ray, along with the Green Barn Events team, generous partners and sponsors, have worked hard to create a memorable cycling experience that will provide a way to give back to our partnering nonprofits.
"This has been a difficult year for so many, yet hope and gratitude remain strong in my heart. This ride will hopefully strengthen my faith that our country is still full of good people wanting to help others." said John Bladholm, Green Barn Events Partner and Co-Founder of The Nationwide Ride.
"We are excited to participate in this unique fundraising event to share the mission of the Fire Family Foundation with a larger audience. John, Athena and the entire Nationwide Ride team have worked tirelessly to put on a great event with an even greater impact," said Elizabeth Dever, Executive Director of the Fire Family Foundation.
Very special thanks to our generous sponsors: Bandit Wines, Pacific Bells, 7-Eleven, Trinchero Wineries, Sutter Home Family Vineyards, Sparkling Ice, Nabisco, Safeway/Albertsons, Dark Horse Comics, Les Schwab, Pelican Brewing, TriCor Technologies, Castelli, Brown Foreman, LinkUs, Oregon Fruit Company, Clif Bar, Andino Coffee, ABC Roofing and SOS Hydration.
For more information about the Nationwide Ride route, nonprofit foundations, sponsors, and how to donate, visit nationwideride.com.
Green Barn Events is a Pacific Northwest event management company with a focus on nonprofit fundraising. GreenBarnEvents.com
Fire Family Foundation's mission is to provide support and financial assistance to firefighters and their families in times of need nationwide. They fulfill their mission through four core programs: providing financial assistance grants to firefighters and their families, awarding college scholarships, providing disaster relief and granting funds to fire charities. Fire Family Foundation is the charitable arm of Firefighters First Credit Union. The Credit Union supports the Fire Family Foundation's overhead costs, so 100% of donations received go directly to support their mission.